As design work is a cornerstone of the Integrated Engineering program, efficient and top quality manufacturing is essential. Aside from the tools and machines in the shop and electrical lab, these specialized resources are available to you for your prototyping needs. If you have any questions, please reach out to your Co-Chief Shop Supervisors, at
3D PRINTING
1. Follow the 3D Printer Guide
---
The guide can be found here. Follow all steps as listed.
---
2. Fill out the 3D Printer Submission Form
---
The form can be found here.
---
3. Check printing status
---
All print jobs will be printed as soon as possible, in order of reception. If it has been more than 1 week and you have not recieved an email about your part, or if you have any other questions, email igen3dprinting@gmail.com.
---
---
LASER CUTTING
1. Prepare your file
---
On Solidworks: -Ensure 2D profile is taken from a selectable plane of a 3D part:
-Select all sections of the plane (shift click to select multiple sections)
-Right click > Export as .DXF
-Ensure all correct faces are selected for import > OK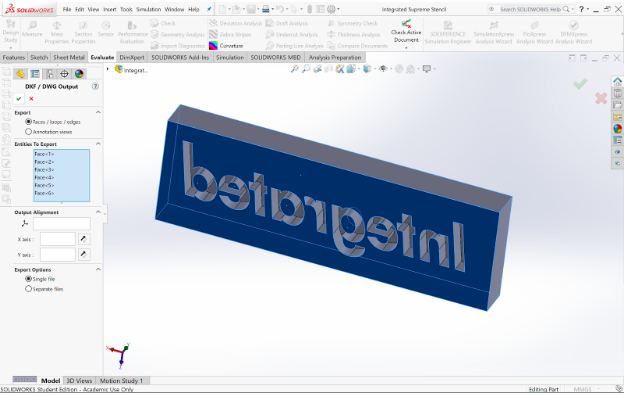 -Ensure .DXF to output has the correct 2D profile as intended > OK
-Bring this on a USB storage stick to your booking On Adobe Illustrator: -Ensure that you are in RGB colour space -It is best to have an artboard the same size as the your material -Orient the job to landscape -Ensure that red lines are 255,0,0 with line weight of 0.06pt and remove all fills. -Ensure that blue lines are 0,0,255 with line weight of 0.06pt and remove all fills. -Ensure that black lines are 0,0,0 and at whatever line weight you wish. -Set layer colour and line colour to 255,0,0 and 0.06pt -Ungroup everything -Trotec has difficulty with certain line types: -Make sure there are no transparencies. -Fills and dashed lines must be converted to outlines. Instructions here. -Save as an Illustrator (.ai) file for best results or as a .pdf file for less reliable results. -It is very important to downsave to Illustrator version CS. Later versions can cause problems. * Please note that the SALA students are familiar with Adobe Illustrator and Rhino (a CAD software), and not with Solidworks. Please let them know that the dxf file you bring in is compatible with Rhino, and ask them to use the "import" command.
---
2. Submit an online booking with Sala
---
Online booking must be done on a UBC VPN here. Minimum booking time is one hour. Request a time that you can show up to so you can meet with a laser operator, aka Monitor, who will take your files and run the machine and jobs for you while you are present (to help troubleshoot and comment on the job).

Locations: The "Lasserre" laser cutter is located in the southwest corner of Room 5 in the basement of the Lasserre Building. The laser cutting room is within another room requiring keycard access, so please show up early in case there is no one inside to unlock the door for you. The room is a bit difficult to find, so be sure to plan ahead on your first visit. The "MacMillan" laser cutter is located in Room 394A in the MacMillan Building.

Fee: There is a per-minute charge for actual cutting time, and an additional file setup fee if the files are not properly prepared for laser-cutting. The cost is $1.40/min at Lasserre, and $0.90/min at Macmillan, with a $5.00 minimum charge.

Material: You must provide your own materials or purchase from SALA . Generally these are paper, wood or acrylic up to 1/4" (6mm) thick. When using the MacMillan laser, the maximum horizontal dimensions are 16" x 28" (400mm x 710mm). When using the Lasserre laser the maximum horizontal dimensions are 23" x 39". If the material is warped, the laser might not cut through everything. The flatter the material, the better the cut. Lasserre has some stock material in the room for purchase, but please call or email ahead to make sure your desired material is available.


Because of toxic fumes, SALA will not accept:
-MDF
-PVC = polyvinyl chloride (e.g. white plastic plumbing pipe)
-ABS = acrylonitrile butadiene styrene (e.g. black plastic plumbing pipe)
-PVA = polyvinyl acetate
-Polystyrene (e.g. Styrofoam)
-Polyurethane
-Polycarbonate (e.g. Lexan)
-Polyester film including PETG or DURALAR (The thin sheets they sell at DeSerres with
the blue covering.).
-In general, anything sold at Home Depot will not work, even though they will tell you that
it's acrylic. It will only melt and turn brown.
-Corrugated cardboard
---
3. Show up to your booking
---
Show up at least 5 minutes early so that the Monitor is not waiting. Assist with file troubleshooting if they need it, and have your SolidWorks-capable laptop readily available if your file needs further formatting.
---
4. Pay for your parts
---
You will be charged for the time (and material if purchased through SALA) via your UBC Pay-For-Print account, which requires you to load a sufficient balance from your bank account or credit card. The student monitor with create the invoice and have it sent it to your email, which can then be used for course reimbursements (if applicable). Note: the monitors are paid on 2-hour blocks, so please try to have multiple parts to cut - or collaborate with another group when booking your time slot.
---
---